New study published: "Resilience in the Smart City - How municipalities can better deal with crises and proactively create a sustainable future"
A city is a dynamic system that is constantly changing. Whether changes concern the urban society or are external, such as climate change, they influence urban development. To face them, cities and communities must be robust and adaptable, which is where the concept of urban resilience comes into play. It aims to increase municipalities' resistance to any chronic stresses, such as the effects of demographic change, or acute shocks, such as flooding. Resilient communities are also able to actively shape change and enable transformation towards a sustainable future.
As part of the accompanying research of the Coordination and Transfer Office Model Projects Smart Cities (KTS), KWB and the German Institute for Urban Affairs have published the study "Resilience in the Smart City", which makes resilience tangible by providing a framework for sustainable urban development. Drawing on experiences in municipal case studies, four central features of resilient systems are discussed: feedback loops, modularity, diversity, and redundancy.
The study particularly focuses on the interaction between resilience and digitalisation and addresses how municipalities can use the latter to strengthen the former. For example, comprehensive databases of environmental data (e.g. via sensors) allow access to real-time information and more precise forecasts to steer development in a sustainable and resilient direction. Platforms shared by different stakeholders for communication and data exchange can promote cooperative working methods. At the same time, the risks of digitalisation, such as dependencies on private IT providers or cascading effects of cyber-attacks, must be addressed.
Based on German, European, and international examples, the study derives key recommendations for action to strengthen "resilience thinking" in municipal practice. The anchoring of resilience as a cross-cutting theme in all municipal decision-making processes and procedures is a crucial task. This includes imparting "resilience thinking" and establishing interdisciplinary cooperation. Resilience strategies should be developed in a manner which supports and complements already existing strategies. Digitalisation should be understood as an opportunity to develop resilient urban systems, where potential risks are addressed early on. Additionally, investment in technical, personnel and financial resources is needed to increase urban resilience. Finally, resilience should be used to bring about the desired and necessary changes and move towards a sustainable future.
The study shows that resilient cities and communities can not only withstand crises better but also actively shape change and enable a sustainable future. Therefore, our interest is to make cities and communities more resilient.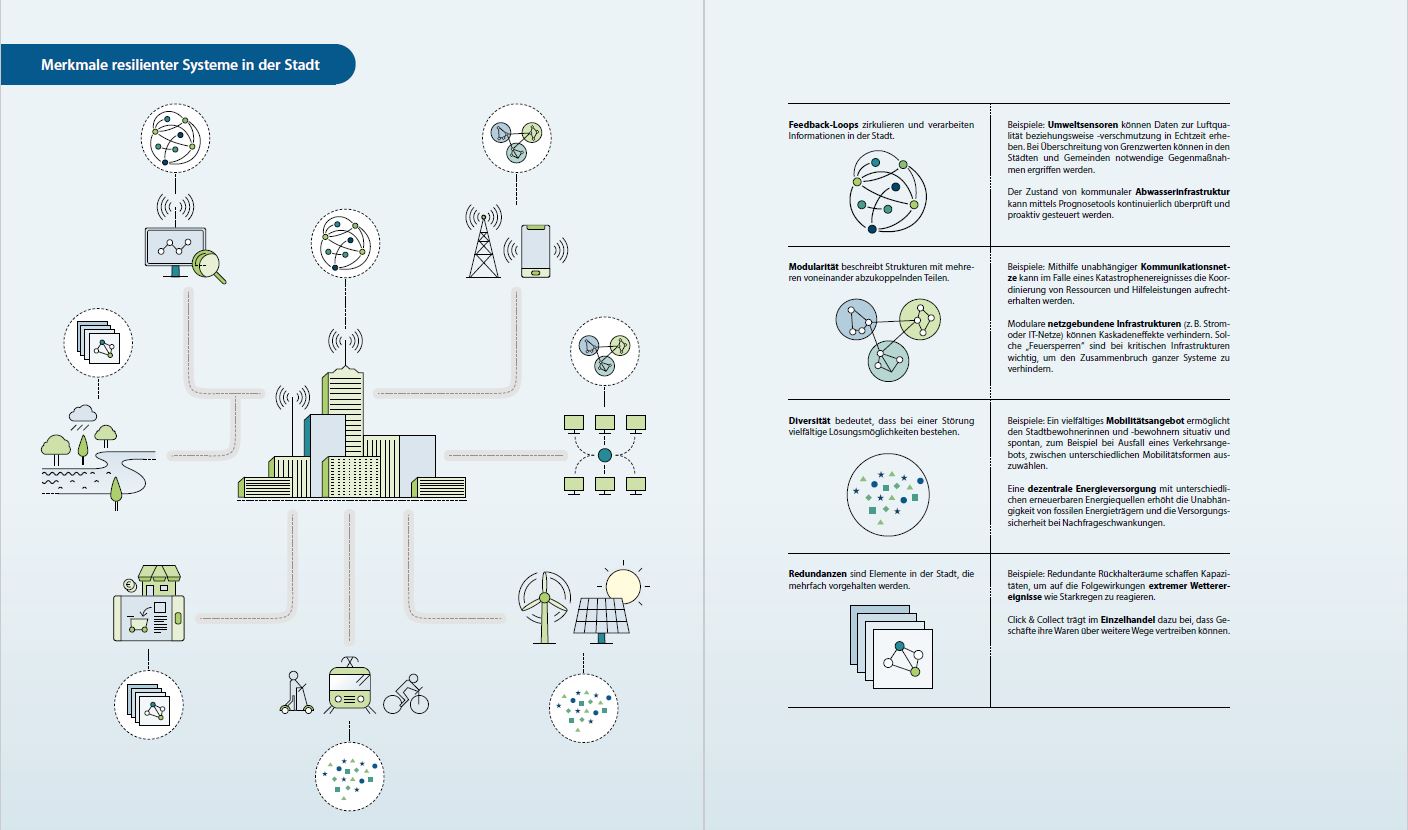 Associated projects and services